Safestone Financial is a lead generation company, not a lending institution, and they earn revenue by selling your personal information to lenders. It's important to keep in mind that if you choose to work with Safestone Financial, your personal information will be distributed to third-party lenders.
Let's discuss the services provided by Safestone Financial. They advertise debt consolidation and debt settlement services, but there are some issues with their offerings. For one, they do not directly provide the necessary funds. Instead, they refer you to other lenders. This means that if you require a debt consolidation loan, you'll have to go through a third-party lender. Additionally, the interest rates associated with these loans are frequently elevated.
Before choosing Safestone Financial for debt consolidation, it's important to explore other options and compare interest rates.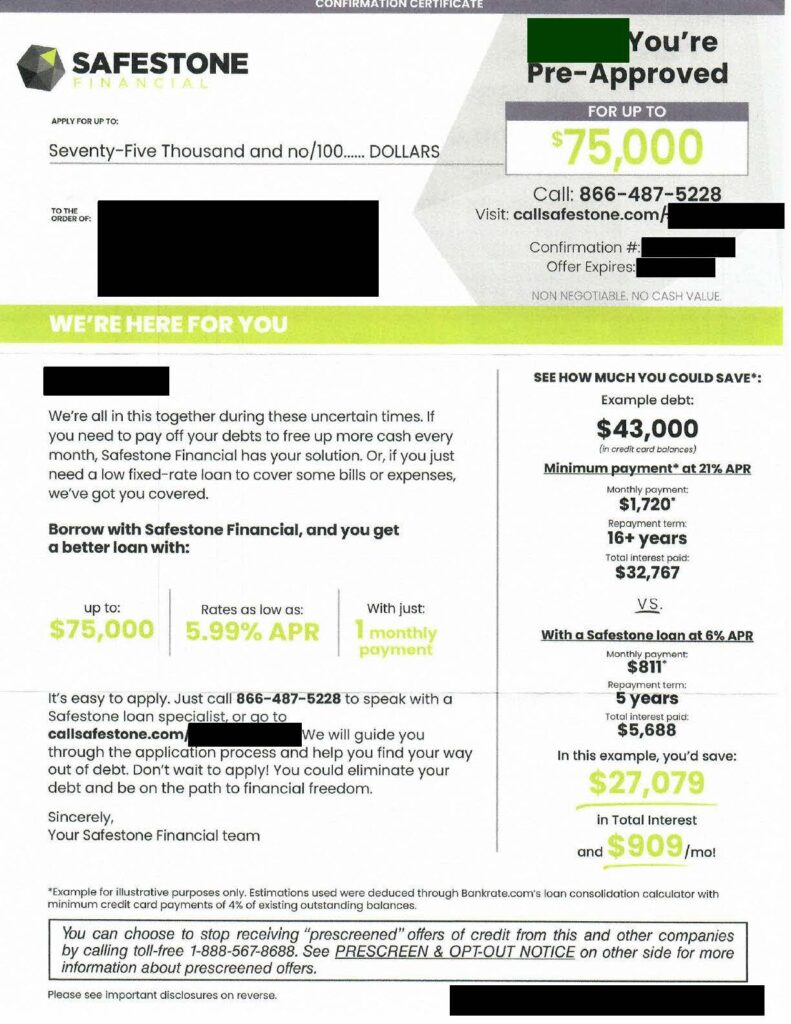 Safestone Financial Review: Pros and Cons
A major drawback of Safestone Financial is that they disclose your personal details to other enterprises, making you a potential customer for all those firms.
Many people have reported that Safestone Financial uses bait-and-switch marketing methods to attract clients, which is considered unethical and casts the company in a negative light.
Furthermore, Safestone Financial is not registered with the Better Business Bureau (BBB), a popular platform that evaluates various businesses. Regrettably, no client feedback is available on the website, which can pose a challenge in making a well-informed choice.
Although Safestone Financial has several disadvantages, there are some advantages to consider. Their website is user-friendly and the process of applying online is straightforward. Nevertheless, these advantages do not outweigh the drawbacks, which means that customers should be fully prepared before dealing with Safestone Financial.
What is Safestone Financial?
Safestone Financial is a company that generates leads and then sells the information to other lenders. They use deceptive tactics, such as advertising one thing but then attempting to sell something else, which can be aggravating for customers seeking a particular product or service.
Moreover, Safestone is renowned for its forceful approach in selling, which may pose a challenge in declining their offers. It is advisable to conduct extensive research and comprehend the terms and conditions before engaging in business with Safestone, or else you might face remorseful consequences.
Have you received a pre-approved offer from Safestone Financial?
Was there a confirmation number and a website address with your name at the end of the pre-approved offer (callsafestone.com/CharlieRoss1)?
Did your pre-approved offer state: "You have a pre-approved offer for up to $75,000 at a fixed rate as low as 6%"
Did the offer you received in advance indicate that your annual percentage rate (APR) decreased from 21% to 6%? Did the offer also indicate that your monthly payment had decreased from $1720 to $811?
Does the pre-approved offer indicate a total savings of $27,079 in interest and a monthly savings of $909?
Seems a little good to be true. And off you go looking for reviews.
How does Safestone Financial work?
Your information is sold by the company to other lenders, resulting in numerous unwanted loan and credit card offers. Moreover, Safestone employs deceptive tactics to attract leads. Although a low-interest rate is advertised, you'll be given a higher rate when you apply.
Safestone earns profits through deceptive means of charging people more than necessary. If you plan on using their services, be cautious of their tactics and think about opting for a different lender.
What kind of loans does Safestone Financial offer?
The Safestone Financial website promotes various loan options including personal loans, business loans, and debt consolidation loans. However, some customers have expressed dissatisfaction with the interest rates being higher than advertised or not being able to obtain the desired loan amount. It is advisable to exercise caution while considering taking a loan from this company, as there may be better alternatives available.
How to qualify for Safestone Financial?
To be eligible for a loan from Safestone Financial, it is necessary to have a consistent source of income and a positive credit record. Additionally, you must be a citizen or permanent resident of the United States and have reached the age of 18. Assuming that you meet these prerequisites, you can proceed with a loan application either through an online interface or by phone.
After submitting a loan application, Safestone Financial will assess it and share your details with multiple lenders. If you're eligible for a loan, you will be presented with a selection of lenders. You can then opt for the lender with the most favorable conditions and rates.
Safestone Financial may not be the most suitable choice for those seeking a debt consolidation loan, as there are alternative companies that provide loans with more favorable conditions and lower interest rates.
How much does Safestone Financial charge?
When contemplating using Safestone Financial for debt consolidation, take into account their fees as you plan for your monthly payment. It's crucial to keep in mind that even though they could decrease your interest expenses, their charges can accumulate rapidly. Prior to deciding, ensure that you examine all available choices.
FAQs
You are pre-approved, does that guarantee the loan?
Regrettably, being pre-approved for a loan or credit card doesn't guarantee that you will be approved for the entire amount. Lenders will still need to examine your financial background and evaluate your capacity to repay the loan before making a final decision. Therefore, don't become overly enthusiastic about the pre-approval letter because it does not guarantee funding at this time.
What is the minimum credit score for a Safestone Financial loan?
To be eligible for a loan from Safestone Financial, applicants must have a credit score of at least 620. However, simply meeting this requirement does not guarantee loan approval. Various other factors, including job history and current debt, also influence the decision. Nonetheless, a credit score of 620 or higher increases the likelihood of being approved for a loan by Safestone Financial.
Before applying for a loan from Safestone Financial, it is important to check your credit score. A better credit score will improve the likelihood of loan approval and could also lead to reduced interest rates.
How does Safestone Financial affect your credit?
Safestone Financial's lenders conduct a hard pull inquiry that may have an adverse impact on your credit score. In the event of late payments, the lender will notify the primary credit bureaus, resulting in a negative mark on your credit report, which may reduce your chances of being approved for new credit lines. We urge all clients to keep up with their payments to avoid incurring late payment fees or penalties.
How do you pay back Safestone Financial?
Since Safestone is not a lender, you cannot directly repay them. They earn money by selling your personal details. Nonetheless, there are several methods to assist in covering the expenses of their facilities.
Initially, you can attempt to bargain with your lenders independently. If you manage to secure a reduced interest rate or monthly payment, it will ultimately save you money and facilitate prompt repayment of your debt. Additionally, you can consider moving your balance to a credit card with 0% Annual Percentage Rate or obtaining a personal loan with a lower interest rate. These alternatives will also aid in saving you money over time and accelerate debt repayment.
If you can't arrange a better deal with your creditors or obtain a lower interest rate, you could attempt to pay more than the minimum amount on your debt. This will allow you to pay it off faster and reduce the amount of interest you pay. Alternatively, you could consolidate your debts into a single monthly payment to improve your financial management and simplify keeping track of your payments.
Before making any decisions, make sure to conduct thorough research and compare interest rates to find the most suitable option. This will enable you to repay Safestone Financial in the most effective manner and save money in the long term.
How to cancel your Safestone Financial?
Safestone Financial does not offer loans and therefore, it is not possible to cancel a loan with them. Nevertheless, if there are any doubts or issues regarding the loan, their customer service department can be contacted for assistance. Regrettably, some customers have experienced difficulty in reaching out to customer service representatives. If the issue remains unresolved, filing a complaint with the Consumer Financial Protection Bureau could be an option.
In case you have been approved for a loan by Safestone but haven't received the money yet, you can cancel the loan and get a refund of your application fee by getting in touch with customer service. However, if you have already received the loan funds from their lenders, you will be accountable for repaying the loan as per the agreement. If you need any help with making payments or have any queries about repayment, reach out to your lender directly.
Safestone Financial BBB Reviews
Safestone Financial has been accredited by the BBB since April 2022 and has an A+ rating. In any case, there is not any customer review or complaint.
It is peculiar that Safestone Financial does not have a Trustpilot account, which is atypical for a financial firm.
Is Safestone Financial Legit or a Scam?
We hope the information below will help you make an educated decision on whether to do business with the company.
Safestone Financial is not a lender. They don't have a Trustpilot account, which is another red flag.
It seems that this business is engaging in a common bait-and-switch tactic, but instead of doing it for their own benefit, they are doing it for the people who are interested in their services. They attract potential customers by sending them direct mail that promises a very low interest rate of 6% if they consolidate their debts from high-interest credit cards.
The information provided does not mention the requirement of having a high credit score in order to be eligible for a loan with a low interest rate, despite being pre-approved for it.
This language is on the back of their direct mail offer. "This correspondence is for a debt consolidation loan referred by Safestone Financial. All loan requests are funded by a third party. Safestone Financial has no control over participating lender creditworthiness eligibility criteria. APR/Interest Rates will vary depending on individual lender terms."
Our curiosity lies in determining the number of consumers who received the offer and are eligible for a 6% interest rate.
We strongly advise that you conduct your own investigation and careful examination of any business, particularly when managing your household finances.
What are your thoughts on Safestone Financial? Have you had any positive or negative encounters with them? Share your feedback in the comment section and don't forget to conduct thorough research before applying for a loan.
Thank you for reading.